The journal is indexed by Web of Science (Clarivate Analytics), PubMed, PubMed Central, Scopus, EMBASE, Directory of Open Access Journals (DOAJ), WHO-EMRO Index Medicus, Scirus (Elsevier), ProQuest, NewJour, Islamic World Science Citation (ISC), Academic Search Complete EBSCO Publishing databases, Allied and Complementary Medicine Database (AMED), Ulrich's Periodicals Directory, Index Copernicus, NLM Catalog, PKP Open Archives Harvester, Geneva Foundation for Medical Education and Research, OpenJ-Gate, Biblioteca.net, Google Scholar, Scientific Information Database (SID), Magiran, Barakatkns and Iranvenex.
Impact Factor
®
 as reported in the 2022 Journal Citation Reports
®
 (Clarivate Analytics, 2023): 
2.1
The 17th National Razi Research Festival on Medical Sciences selected the International Journal of Preventive Medicine as the Outstanding Biomedical Scientific Research Journal.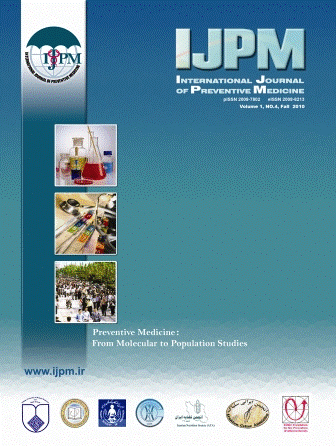 Announcements
**فراخوان چاپ مقالات مروری**

مجله طب پیشگیری در نظر دارد دست نوشته های مروری (نظام مند، فراتحلیل و ...) را که در اسفند ماه 1401 برای مجله ارسال می گردند، در صورت هم خوانی با اسکوپ مجله و پس از طی مراحل داوری در اولویت انتشار قرار دهد

**هزینه چاپ برای پژوهشگران دانشگاه علوم پزشکی اصفهان رایگان خواهد بود**

نکته: لطفا در هنگام ارسال، در صفحه عنوان درج نمایید که دست نوشته مربوط به «فراخوان مقالات مروری» می باشد

Posted: 2023-02-20

Publication Fee

International Journal of Preventive Medicine (IJPM) implements a publication fee for manuscripts.

The payment plan for our contributors can be found below.

Posted: 2014-05-31
More...